Day Retreats, Retreats & Workshops

Benefits of Infrared Hot Yoga
| | | | | | |
| --- | --- | --- | --- | --- | --- |
| MONDAY | TUESDAY | WEDNESDAY | THURSDAY | FRIDAY | SATURDAY |
| | | | | | |
| | | | | | |
| | | | | | |
| | | | | | |
| | | | | | |
| | | | | | |
* Suitable for beginners.
CARROT BANANA PEACH
BIO RESEARCH & YOGA RETREAT CENTRE
Welcome to our Bio Research & Yoga Retreat Centre, a place of passion for plant based living - where we design and develop yoga centric clothing and accessories.
Open to the public, the centre explores and offers a wide range of yoga styles through an international network of teachers & students. By bringing together some of the most exciting and popular forms of yoga, we aim to design and develop more sport relevant products through in-house direct product testing.
Boasting the most advanced studio technology in Hot Yoga and Aerial Yoga, students of all ages can now access a wide range of yoga classes, unwind in the Vegan Lounge, book various consultants at our Mind Body Room and purchase our latest UK made products in the retail shop.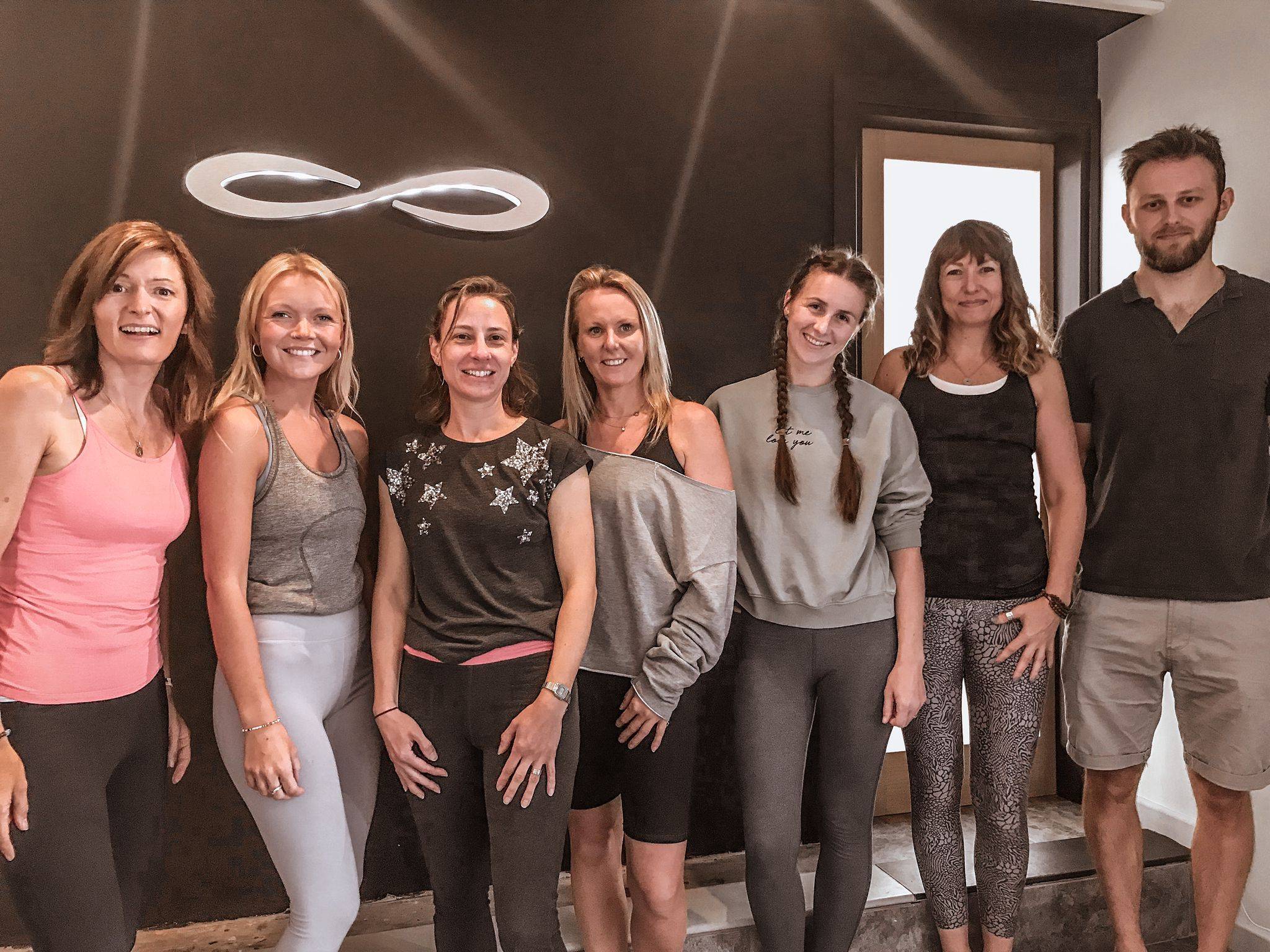 Pregnancy, Restorative & Baby Yoga
Hi! I am passionate about Relaxation, Pregnancy & Baby Yoga, I have been teaching group & one-to-one classes for over 15 years.
In Prenatal Yoga, I am dedicated to promoting ease & comfort whilst strengthening you for birth & inducing peace of mind.
In Postnatal classes, I help you transition smoothly into motherhood, regain core strength and have fun with baby.
I also teach Restorative Yoga: long-held supported postures that quieten the mind and rejuvenate the body. I look forward to meeting you soon!
Hot, Aerial & Restorative Yoga
Having completed her 200-hour training in Goa, Steph utilises all the traditional methods with a fresh & modern twist. She came to Yoga to help with her half-marathon training, when noticing her hips taking a beating! As the years passed, the running fell to the wayside, her love of Yoga grew & the pain she used to get stopped.
I've been working with young people as a teacher in mainstream & specialist schools since 2002, and teaching Yoga for young people since 2015.
In the last 3 years, my focus has been on helping students with mental health conditions, as well as training to be a person-centred counsellor.
My yoga & wellbeing sessions are driven by a person-centred, anxiety informed approach; I aim to reduce the impact of stress & anxiety both in class & outside the studio. I use fun, creative and well researched methods.
Beginners Yoga & Saturday Flow
Kelly practiced Iyengar yoga for 8 years before recently completing a 200-hr Teacher Training with Yogacampus in Manchester. She aims to help you discover a toolkit that supports you both on & off the mat.
Her classes are a chance to pause & reflect and strengthen your mind / body connection.
Expect a mix of postures with some breathwork and relaxation. Kelly's approach will allow you to choose what works for your body and practice at your own pace.
Beginners, Hatha Flow, Slow Flow and Sound Relaxation.
Yoga has always been part of my life. I took my mat & practice to many countries: Australia, Malaysia, Dubai, Turkey & more. Traveling hugely enriched my teaching.
In my classes, you will warm up, connect to the breath and practice smooth & accessible sequences. I teach Beginners on Tuesdays & All Levels on Saturdays.
In my Friday relaxation class, I will take you on a journey through the senses with music, sound vibrations and aromatherapy for an utterly special experience. See you on the mat!
After 15 years of intense dance training and completing my university degree in Contemporary Dance, Hannah knew that working and conditioning the body was her biggest passion. It led her into the wonderful world of Pilates and all the amazing benefits it has to offer!
Her classes help students to look after their core & backs, build a confident posture, and improve their strength. Each session ends with a period of rest and relaxation.
Jess started yoga 7 years ago, it kept her grounded & centered whilst traveling the world. Jess qualified in India in 2019, she has been teaching consistently ever since. She is eager to share her passion, love & lifestyle with you.
Jess' style is authentic & non-judgemental, and uses the breath to move in & out of poses. She invites a playful element to the class, hoping that you'll leave the mat inspired, nourished & empowered to let your natural beauty shine through.
Contact Details
+44 (0) 1925 648428
Carrot Banana Peach
Bio Research and Yoga Retreat Centre,
Heritage Way,
Knutsford, Cheshire. WA16 6DG
info@carrotbananapeach.com
Welcome to Retreats & Workshops.




We are now introducing workshops, retreats and party packages at our Yoga Retreat Centre.

For the latest and current scheduled events see below or for general enquiries email us at knutsford@carrotbanananapeach.com or please ring us on 01925 649 515.
WEDNESDAY DAY RETREAT
Treat yourself to a day of self-care and rejuvenation!
Take a class, enjoy lunch in our Vegan Cafe, and a massage treatment with our Floaty Wednesday Package featuring Aerial Yoga.
10.00 Welcome Drink
10.45 Aerial Yoga
12.00 Lunch & Relax
13.45 Massage
15.00 Tea & Snack
After we will contact you to arrange your Special day: you'll choose your treatment style and your date (min 48hrs notice thanks).
Your lunch will be freshly made & Vegan. We cater for all dietary requirements, including Gluten Free and Nut Free.
Note that this product is transferable to another person but non-refundable.
We look forward to treating you to a wonderful day of Wellness in the heart of Knutsford!
1/2 DAY RESTORATIVE RETREAT
(2nd OCT) 10am-1pm
A 1/2 day retreat with Jess and Maryline offering a Cacao Ceremony and 2 hours Yoga session to energise and recharge!
10.00-10.15 Welcome with refreshments
10.15-11.00 Meditation & Cacao Ceremony with Jess
11.00-11.30 Gentle Yoga for Core Strenght
11.30-13.00 Restorative Yoga
We look forward to treating you to a wonderful morning mixing Strengthening and Relaxation in the heart of Knutsford!
Spaces limited to 10, book early!
COUPLES BIRTH PREP WORKSHOP
(Date Tbc)
A practical session to rehearse together with your birth partner: movements, breathing, visualisations and massage techniques that can help towards a positive birth experience.
A 3 hour workshop exploring:
- ways your partner can support you both practically and emotionally during the birth
- visualisations, movements and pain relief techniques for surges
- birth positions, massage
- tips pre and post birth
One to one or group sessions available on request - at the studio or the couple's home
£60 at the studio / £65 at home ~ includes a detailed info pack.
(Keep the area for the link but don't have a link yet please thanks)
Mindful Walk - Saturday 10th Sept 9.30-11.00

 

Yelena, Jess, Helen and Maryline are guiding you through a mindfulness walk at Tatton Park!

 

Depart from the Studio and wander together through the park with breaks to stretch gently, breathe deeply. Take stock of the beautiful surroundings using mindfulness techniques.
Enjoy the group vibe & meet fellow Carrot Banana Peach students!

 

Everyone welcome (children 10Y+).

 

Book a free space now!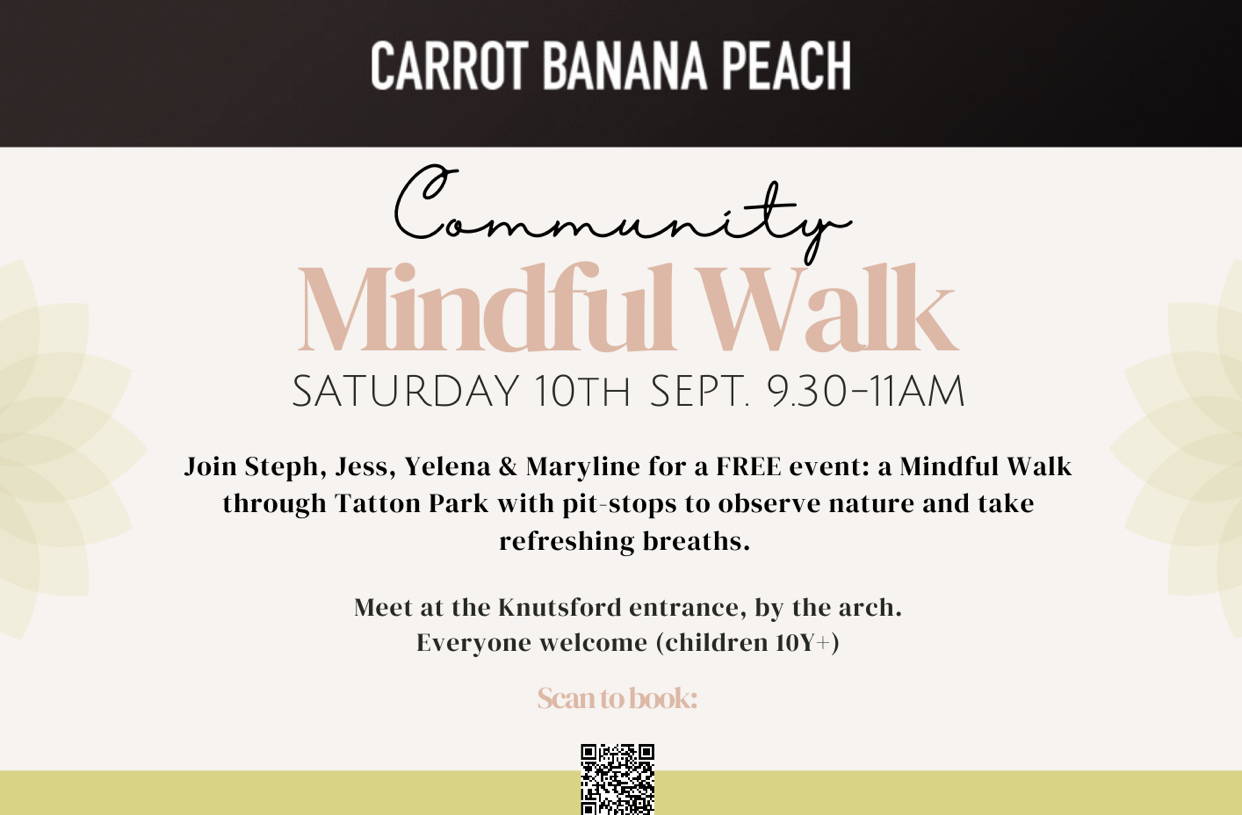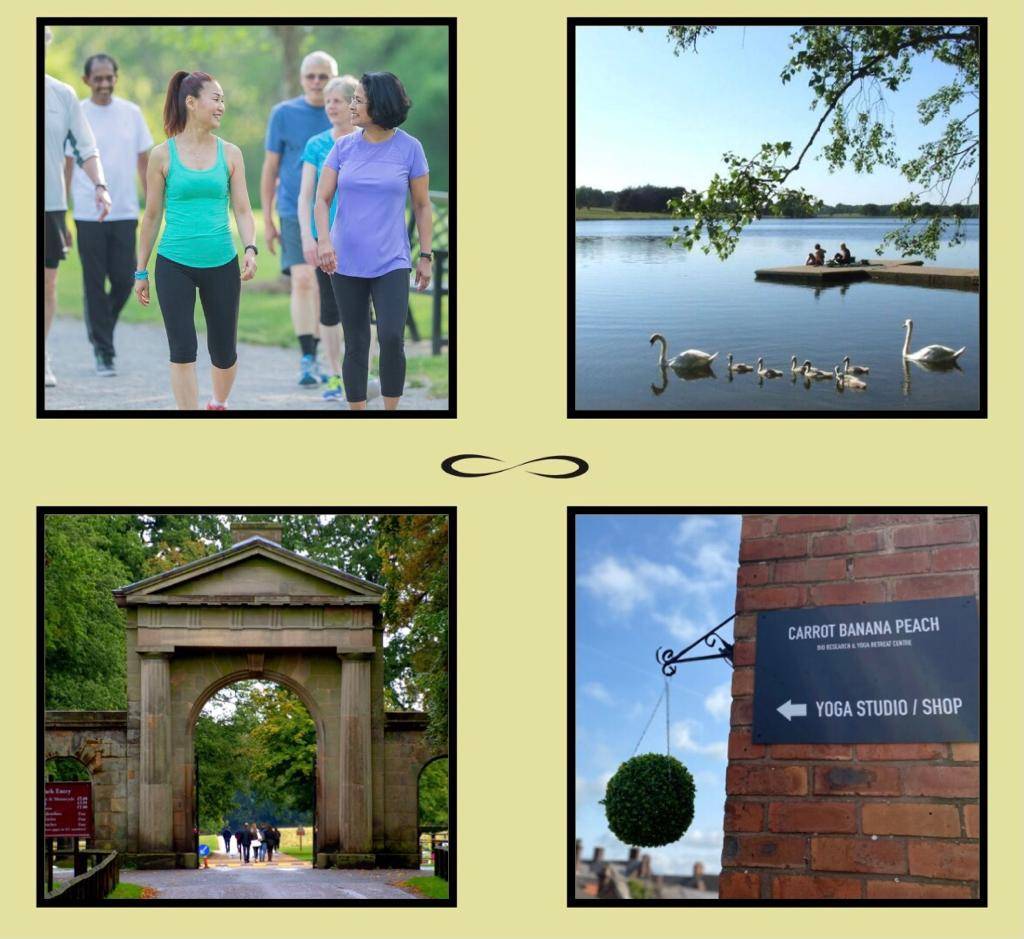 Benefits of Infrared Hot Yoga
The Journal of the American College of Cardiology and the Mayo Clinic report that infrared therapy improves the functioning of blood vessels, reduces cholesterol, increases circulation and lowers blood sugar levels. Some of the additional health benefits of infrared hot yoga include:
Improved Immune System Function

Infrared rays are known to boost the immune system by increasing the number of white blood cells and T cells. This improved immune system function promotes healing throughout your body, reduces muscle tension, soreness and muscle spasms. Raising your body temperature also creates a sort of artificial fever, which is also a benefit to your immune system.

A Multitude of Skin Benefits

Skin problems can be eliminated with hot yoga due to the ability of hot yoga to increase blood flow and oxygenation to your skin. The improved circulation is due to the expansion of your capillaries. Infrared energy is also shown to Improve collagen production and skin elasticity, reduce the appearance of fine lines, reduce or prevent wrinkles, and minimize acne scars.

May Help Detoxify Your Body

Infrared yoga can help detoxify your body by increasing how much you sweat during your workout, potentially clearing heavy metals, toxins, and carcinogens from your body. Detoxification could be beneficial to those living with chronic fatigue or skin disorders. Infrared hot yoga also amplifies the amount of fat you will eliminate with exercise and eliminates retained fluids.

Accelerates Your Weight Loss Efforts

Infrared boosts the enzymatic activity in your digestive tract and boosts your metabolism. Just one hour of infrared hot yoga can burn up to 900 calories, break down trapped fat, cellulite, and cellular waste. One thirty minute infrared hot yoga session is equivalent to sweating the distance of a two to three-mile run.

Reduces Pain and Inflammation

The infrared light and heat penetrate deeply to soothe pain, inflammation, and ease muscle soreness. Infrared heat penetrates your body, improving your circulation, enhancing oxygenation and relaxing your muscles. This has proven beneficial for yoga enthusiasts who rely on their discipline to help alleviate the symptoms of chronic pain conditions, such as osteoarthritis, rheumatoid arthritis, and fibromyalgia.

Increases Muscle Flexibility and Accelerates Strength Building

Your body moves better when your muscles are warm. You will find your muscles more limber; you may also find that you require less time to warm up. While your muscles will move easier, more freely with infrared hot yoga, it is still recommended not to push yourself too hard, at least not at first. Your tendons and ligaments are not as vascular as your muscles. While your muscles may stretch more deeply, your tendons and ligaments may not be ready; you need to gauge your efforts mindfully to reduce your risk of a pull or strain.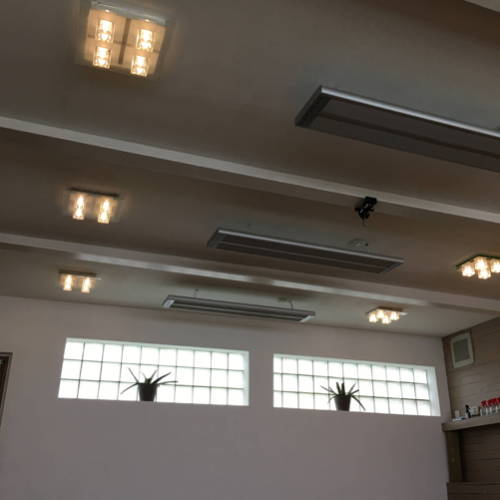 AVAILABLE AT MIND BODY ROOM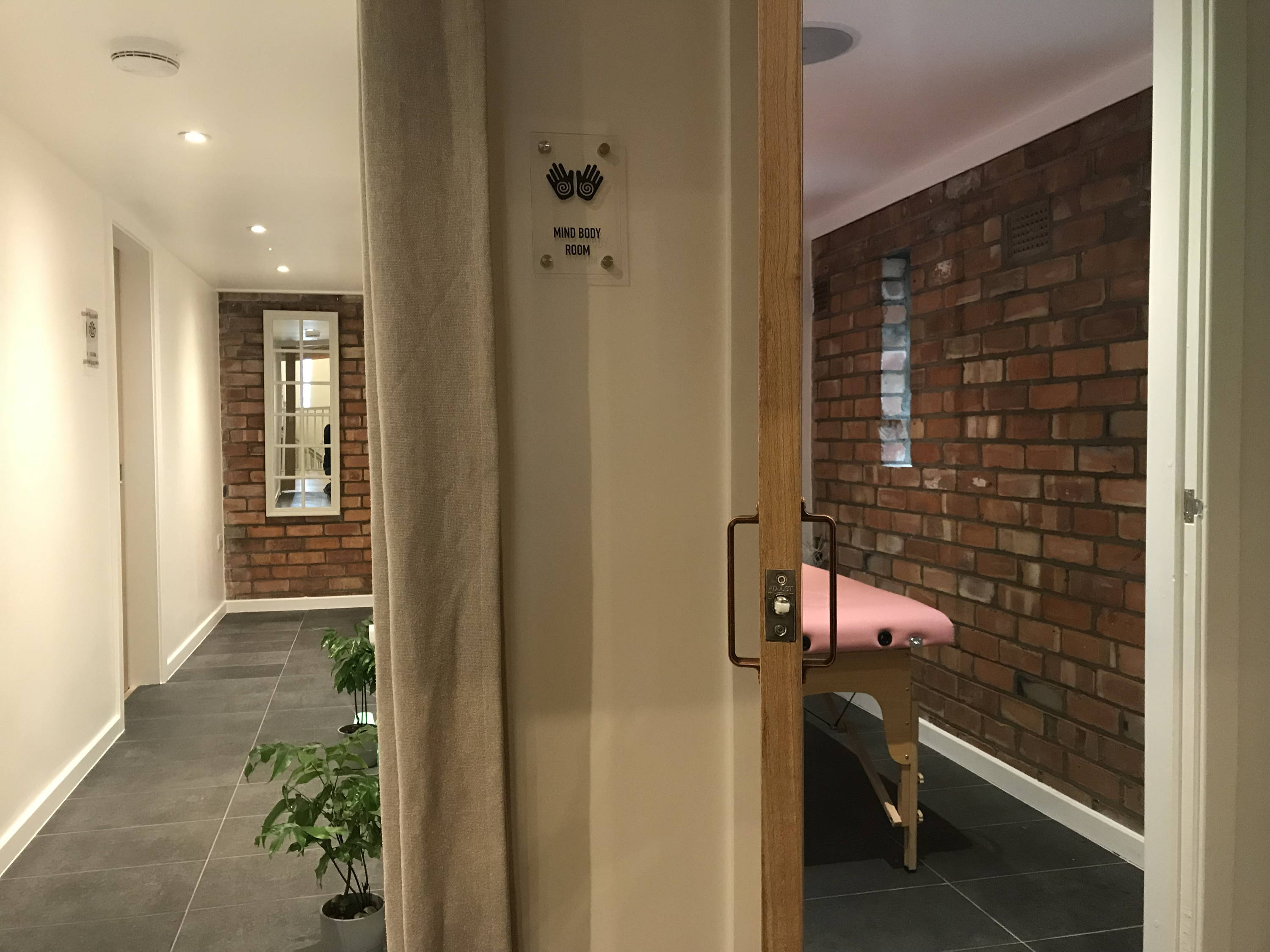 MASSAGE & TREATMENTS
The Mind Body Room offers 5 different treaments to choose from with our leading sports therapist.